Kwanzaa is a cultural celebration for African-American right after Christmas, it was first started in the year 1966.
It is a week-long fest in the United States start from December 26 to January 1. To double your enjoyment we get you covered best Kwanzaa Captions for Instagram Pictures.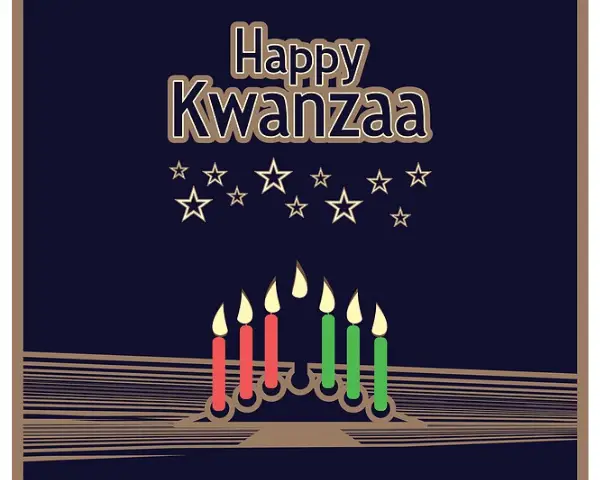 It is a celebration of family, community, and culture, connect people together. Kwanzaa spreads the goodwill message to humanity. Great thoughts you can spread via Kwanzaa Quotes & Sayings.
Kwanzaa is not just a celebration but also carries forward the cultural tradition, ethics that reflects the African thoughts about the well-being of family, relatives & above all human integrity.
In the United States, families and communities are organized with various events dedicated to Seven Principles & cultural values. You too can share festive pictures along with these captions.
Kwanzaa Captions
A clear conscience makes a soft pillow.
A wise man never knows all, only fools know everything.
Faith is taking the first step even when you don't see the whole staircase.
Kwanzaa has a life of its own. Kwanzaa is about the spirit of people.
Once you know who you are, you don't have to worry anymore.
Service to others is the rent you pay for your room here on earth.
The axe forgets what the tree remembers.
To believe with all our heart in our people & the victory of our struggle.
Umoja. Kujichagulia. Ujima. Ujamaa. Nia. Kuumba. Imani.
We all should know that diversity makes for a rich tapestry, and we must understand that all the threads of the tapestry are equal in value no matter what their color.
We will never know ourselves if we do not know our history.
Kwanzaa Quotes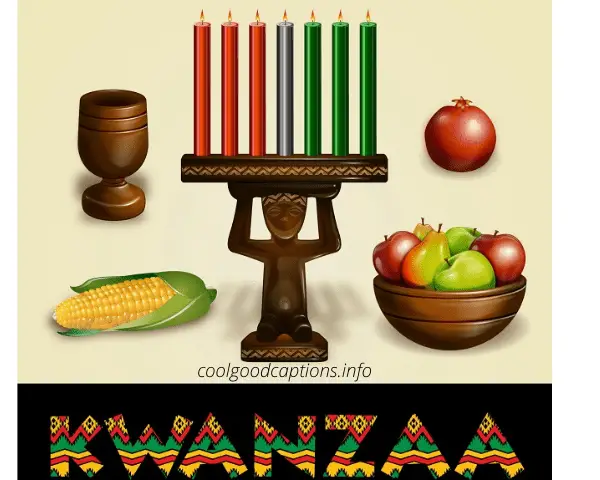 A speaker of truth has no friends. – African Proverb
Ask for what you want and be prepared to get it. – Maya Angelou
Faith is taking the first step even when you don't see the whole staircase. – Martin Luther King, Jr.
Faith, self determination, ujamaa, love, nia, beautiful, purpose, community, cooperative economics, creativity, umoja, collective work & responsibility, imani, unity, Kwanzaa, ujima, Nguzo Saba, family, kujichagulia.
Have a vision. Be demanding. – Colin Powell
I am because we are. – Umoja
If I didn't define myself for myself, I would be crunched into other people's fantasies for me and eaten alive. – Audre Lorde
If you have a purpose in which you can believe, there's no end to the amount of things you can accomplish. – Marian Anderson
If you want to go quickly, go alone. If you want to go far, go together. – African Proverb
It takes a village to raise a child. – African Proverb
It's not what you call me, but what I answer to. – African Proverb
Money won't create success, the freedom to make it will. – Nelson Mandela
One who loves you, loves you with your dirt. – African Proverb
To do always as much as we can, in the way we can, in order to leave our community more beautiful and beneficial than we inherited it. – Kuumba 
To strive for & maintain unity in the family, community, nation & race. – Umoja
Umoja, Kujichagulia, Ujima, Nia, Cujamaa, Kuumba, Imani, Happy Kwanzaa.
We will never know ourselves if we do not know our history. – Maulana Karenga
You must act as if it is impossible to fail. – Ashanti Proverb
Kwanzaa Sayings
The moment we break faith with one another, the sea engulfs us and the light goes out. – James Baldwin
Sticks in a bundle are unbreakable. – Kenyan proverb
Our children need the sense of specialness that comes from participating in a known and loved ritual. They need the mastery of self- discipline that comes from order. They need the self- awareness that comes from a knowledge of their past. They need Kwanzaa as a tool for building their future and our own. – Jessica Harris
May you rejoice in tradition of Kwanzaa!
May the light of your kinara fill your home with peace and light your new year with love.
Kwanzaa is a pan- African celebration of heritage and culture and family and community. The principles and the manner of observing the holiday lift up traditional values that are key to our lives. – Janine Bell
It's not what you call me, but what I answer to. – African Proverb
I see Kwanzaa as an opportunity for African- Americans to reaffirm ourselves if we choose to, a chance to rebuild and renew our focus. I see Kwanzaa as a holiday of the spirit. – Jessica Harris