Capture the mesmerizing charm of Prague, we are providing you with the ultimate collection of Prague captions for Instagram that will captivate your follower's attention and cheer them to the heart of Europe.
From the grand Prague Castle to the magnificent Charles Bridge and the magical Old Town Square, this city is like a real-life dream.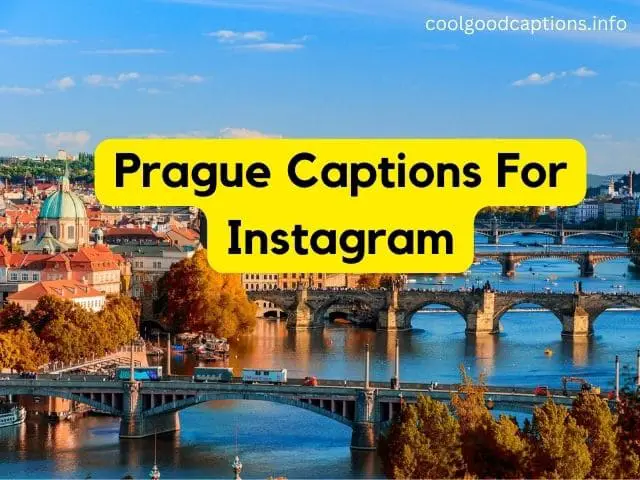 TABLE OF CONTENTS
Prague is known for its endearing cafes and cozy wine bars, where you can spend a relaxing afternoon or an enjoyable night.
READ | 91 Best Oslo Captions for Instagram: Unleash Nordic Beauty! 2023
Prague, with its captivating beauty, rich history, and delightful culinary scene, offers endless opportunities for creating unforgettable Instagram-worthy moments.
Prague Captions For Instagram
A trdelník a day keeps the doctor away
And the award for the best Old Town goes to…Prague!
Cue the dreamy castles and cathedrals
Disney's got nothing on Prague.
Flipping Prague! – Life is Sweet
From now on sweet dreams are made of castles, cathedrals, and sightseeing in Prague.
Happiness is not a state of mind, but a trip to Prague
How can one complain in a place like Prague?
I followed my heart and it led me to Prague.
I think I can see Cinderella from over here
I wonder if Prague misses me too.
I'm all about the castle and no-hassle life
If you can't go to heaven, Prague is the next best thing
Just a girl who loves Prague
Left my heart in Prague, better go back and get it
Meet me at the Charles Bridge.
My sense of direction leads me one way: to Prague.
Never met a castle I didn't like
On the search for the best castle in Prague.
Prague is always a good idea!
Taking life one kolache at a time
These Praha streets are magic
These Praha streets are nothing short of magic.
Today's forecast: 100% chance of castle.
We have nothing to lose, and a world to see
What's not to love about Prague?
You can leave Prague, but it will never leave you.
Funny Prague Puns
Czeching Prague off my bucket list
Enjoying a reign-y day here at the castle
I love watching the river under the Charles Bridge. It's my favorite live stream
Just Lennon against the wall
Kolaches don't cost a lot of dough
My Prague-nosis? Time in the Czech Republic is working its magic on me
So pretty that it's hard not to Staré
Wenceslas time you were in a place this beautiful?
You should Prague-ably visit this beautiful city
You're a pain in my česnečka
Short Prague Captions
Disney's got nothing on this
I really, really like Prague
I wonder if Prague misses me too
Living out my own fairytale
Meet me at Charles Bridge
Never coming home, staying in Prague
Prague gives me butterflies
Inspirational & Beautiful Prague Captions
Fulfilled my lifelong dream of visiting Prague
How can you complain in a place like Prague?
My sense of direction leads me one way: to Prague
On the search for the best castle in Prague
Prague, thank you for making me feel so alive
Wander often, wonder always
Watching the sunset over the Prague horizon never gets old
You can leave Prague, but it will never leave you
Prague Quotes For Instagram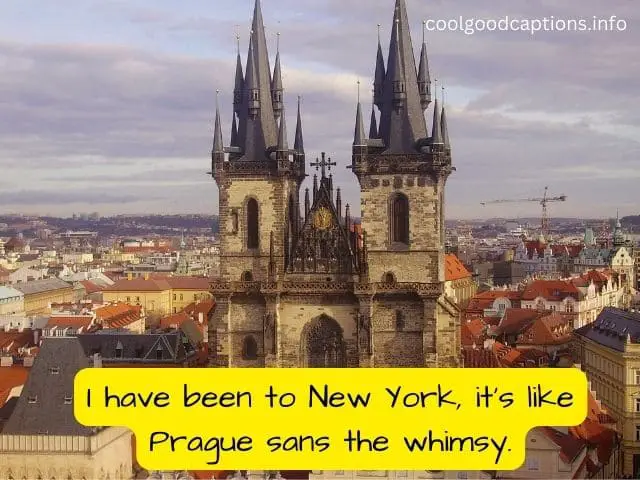 Because when you stop and look around, this life is pretty amazing. – Dr. Seuss
Eastern Europe has been really trendy. Prague is the best-preserved city in the region and the best beer in Europe lands on your table there for 50 cents. – Rick Steves
I had traveled to a lot of cities in Europe before, but Prague was special. It held a mysterious attraction for me. – Arfi Lamba
I have been to New York, it's like Prague sans the whimsy. – Brian Griffin
I liked Prague. No other city has so much soul. – Jean-Pierre Melville
I personally think Prague is more romantic than Paris. If you have a girlfriend, take her there. – Stephanie Sigman
If European cities were a necklace, Prague would be a diamond among the pearls. – Unknown
In Rome, the statues, in Paris the paintings, and in Prague the buildings suggest that pleasure can be an education. – Caleb Crain
It's easy to fall in love among the winding cobblestone streets and snow-covered castles of Prague, but is it a good idea? – Dana Newman
It's easy to fall in love among the winding cobblestone streets and snow-covered castles of Prague. – Dana Newman
Old Prague was a story-book city caked in grime: ancient, soot-blackened. History lived in every detail: in the deerstalker rooftops and the blue-sparking trams. – Philip Sington
Prague changes like a precious stone to reflect the weather, the time of day, and the season of the year. – Christian Norberg – Schulz
Prague does not have its name for no reason – in truth, Prague is a threshold between life on Earth and heaven, a threshold much thinner and narrower than in any other place. – Gustav Meyrink
Prague is like a vertical Venice: steps everywhere. – Penelope Gilliatt
Prague is equal to Paris in terms of beauty. Its history goes back a millennium. And the beer? The best in Europe. – Lonely Planet
Prague is the Paris of the '90s. – Marion Ross
Prague isn't just a city, but an entity of some kind. – Sezin Koehler
Prague lay before him like a mysterious stranger in an old hat. An exotic woman waiting for him in poor light. – Victor Gischler
Prague never lets you go…this dear little mother has sharp claws. – Franz Kafka
She felt happy in Paris, happier than here, but only Prague held her by a secret bond of beauty. – Milan Kundera
The ancient splendor and beauty of Prague, a city beyond compare, left an impression on my imagination that will never fade. – Richard Wagner
The miracle of my life is to awaken every morning in the 21st century – in Prague. – Alan Levy
The most unspoiled baroque city in Europe. – Christopher Booker
The streets of Prague were a fantasia scarcely touched by the 21st century – or the 20th or 19th, for that matter. It was a city of alchemists and dreamers, its medieval cobbles once trod by golems, mystics, and invading armies. – Laini Taylor
The turbulent Vltava, swollen with rainy waves, bursting, impetuous breaks through its river banks. – Elizabeth Jane Weston
There'll be Czechs bouncing in the streets of Prague tonight. – Bernd Liebner
Walking around Prague is comparable to being in a fairytale: except for one minor detail: it's real.
Final Thought
Through captivating Instagram captions for the Czech Republic that express the essence of Prague's charm, you can transport your followers to this magical destination and inspire them to embark on their own journey to the heart of Europe.