These Water Captions will educate people about the importance of water in our life. We can't even think of life Without air, water, no human existence ever possible.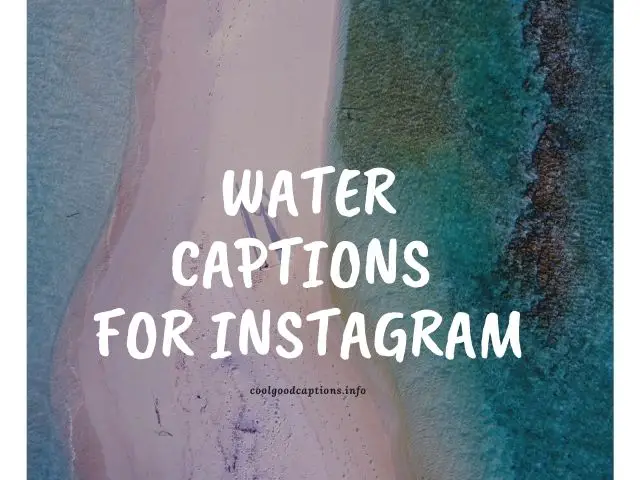 The flow of water never stops whatever the obstacle comes their way. This is the best example of patience and persistence, we can take away a big lesson whatever the problem we come across, never stop & keep going until you get the desired goals.
It is not enough to know the importance of water but also to create awareness among people to save water. So we have compiled a beautiful collection of Water Instagram Captions & relevant quotes from different sources.
READ: Best & Funny Waterfall Captions & Quotes
You can motivate people by sharing these awesome Water Captions For Instagram by putting along with pictures, and spread the information as much as you can, take advantage of social media.
Water Captions for Instagram
A calm water is like a still soul.
A drop of water, if it could write out its own history, would explain the universe to us.
A lake carries you into recesses of feeling otherwise impenetrable.
A man of wisdom delights in water.
A pool is water, made available and useful, and is, as such, infinitely soothing to the western eye.
A river cuts through rock not because of its power but because of its persistence.
Always be like a water. Float in the times of pain or dance like waves along the wind which touches its surface.
Be like water, which is fluid & soft & yielding, as in time, water will overcome rock which is rigid & hard. Therefor, what is soft is strong.
Be like water. Flow, crash, fly!
Clean water is inestimably precious to waste!
Do not feel sad for your tears as rocks never regret the waterfalls
Do you ever feel like you're getting sick, and then you have a glass of water and you're like, 'oh, that's why people drink that.'
How one raindrop marries the other and forms an ocean of love.
Human nature is like water. It takes the shape of its container.
I am like the water that runs over me, immune to permanence, recycling endlessly. I am water; I am life. The form may change, but the substance stays the same. Strike me down and I will rise again. Vincit qui patitur.
I am like water so to say, I will find my way!
I am now a river, carving my own path.
I believe that water is the closest thing to a god we have here on Earth. We are in awe of its power and majestic beauty. We are drawn to it as if it's a magical, healing force. We gestate in water, are made of water, and need to drink water to live. We are living in water.
I could float in the pool for hours, just letting the water carry me.
I have left almost to the last the magic of water, an element which owing to its changefulness of form and mood and colour and to the vast range of its effects is ever the principal source of landscape beauty, and has like music a mysterious influence over the mind.
I have seen the sea when it is storm and wild; when it is quiet and serene when it is dark and moody. And in all these moods, I see myself.
I love the sounds and the power of pounding water, whether it is the waves or a waterfall.
I was still water, held by my surroundings.
If the earth is a mother then rivers are her veins.
In my life, water has had the character of punctuation.
In one drop of water are found all the secrets of all the oceans; in one aspect of you are found all the aspects of existence.
In order to reflect, think and plan, you must quiet yourself. You can't see your reflection in churning waters. Water must be still to see your reflection. – Karen Susman
In rivers, the water that you touch is the last of what has passed and the first of that which comes; so with present time.
In wine there is wisdom, in beer there is freedom, in water there is bacteria.
Individually, we are one drop. Together, we are an ocean.
It is life, I think, to watch the water. A man can learn so many things.
Life in us is like the water in a river.
Life is like the ocean, it goes up and down.
Love, like a river, will cut a new path whenever it meets an obstacle.
Water Captions For Instagram
Make hope just like water in your life
Many a calm river begins as a turbulent waterfall, yet none hurtles and foams all the way to the sea.
My desk faces the water, and I'm perfectly happy sitting there. I'm never lonely.
My therapist set half a glass of water in front of me. He asked if I was an optimist or a pessimist. So, I drank the water and told him I was a problem solver.
No one can see their reflection in running water. It is only in still water that we can see.
No water, no life. No blue, no green.
Nothing is softer or more flexible than water, yet nothing can resist it.
Pure water is the world's first and foremost medicine.
Run wild and free like a waterfall
The fall of dropping water wears away the Stone.
The person who despises a drop of water is an utter ignorant who doesn't know that billions of tiny creatures in this world can live with one water drop for days!
The places where water comes together with other water. Those places stand out in my mind like holy places.
The sea is captive in a drop of water.
The sound of water is worth more than all the poets' words.
The water caresses in the glass, like love in the body.
The water is a dark flower and a fisherman is a bee in the heart of her.
The water tells none of its secrets.
The water was pure and cold and came out of the Apennines tasting like snow melted in the hands of a pretty girl.
Therefore, just as water retains no constant shape, so in warfare there are no constant conditions.
They both listened silently to the water, which to them was not just water, but the voice of life, the voice of Being, the voice of perpetual Becoming.
This life is like a swimming pool. You dive into the water, but you can't see how deep it is.
Thousands have lived without love, not one without water.
Until justice rolls down like water and righteousness like a mighty stream.
Water belongs to us all. Nature did not make the sun one person's property, nor air, nor water, cool and clear.
Water in the boat is the ruin of the boat, but water under the boat is its support.
Water is always working, reorganizing the land.
Water is colourless like life.
Water is insipid, inodorous, colorless and smooth.
Water is life's matter and matrix, mother and medium. There is no life without water.
Water is my drink. – Stephen Curry
Water is sacred to all Human Beings. If you do not have water, you cannot have life. I always remember to honor and pour the water because it is traditional.
Water is soft and humble, but it is the most powerful and is the most endurable.
Water is such a lifesaver into which we cannot breathe but without taking it into us we cannot live
Water is sufficient…the spirit moves over water.
Water is the driving force in nature.
Water Instagram Captions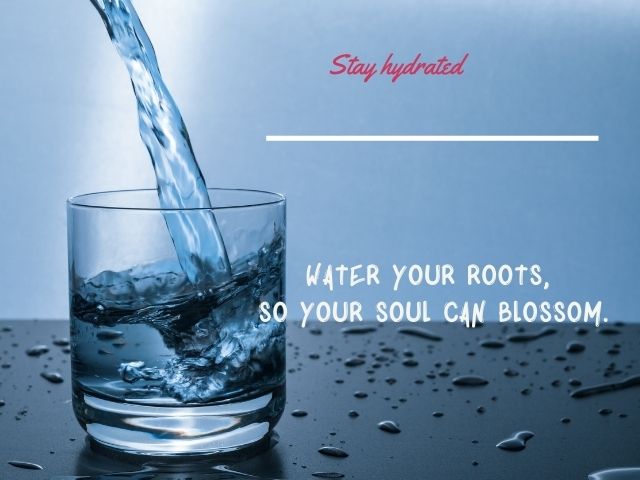 Water is the lifeblood of our bodies, our economy, our nation and our well-being.
Water is the most critical resource issue of our lifetime and our children's lifetime. The health of our waters is the principal measure of how we live on the land.
Water is the most extraordinary substance! Practically all its properties are anomalous, which enabled life to use it as building material for its machinery. Life is water dancing to the tune of solids.
Water is the most perfect traveller because when it travels it becomes the path itself!
Water is the mother of the vine, the nurse and fountain of fecundity, the adorner and refresher of the world.
Water is the reason of our birth; it is the healer, the destroyer and the final consumer.
Water liked to be free. . . Water hated being trapped, just like Percy.
Water wants to join water. Youth wants to join youth.
Water was liquid silver, water was gold. It was clarity—a sacred thing.
Water! You may not like it, but you have to drink it.
Water, in all its forms, is what carries the knowledge of life throughout the universe.
When life places stones in your path, be the water. A persistent drop of water will wear away even the hardest stone.
When the water is calm, take as much distance as possible with your boat!
When the well's dry, we know the worth of water.
When water falls, it flies.
When you do things from your soul, you feel a river moving in you, a joy.
Where the waters do agree, it is quite wonderful the relief they give.
Whoever thirst for the living Water shall be quench.
Why was it that the sight of water made everything in the world seem okay? She wanted to look at water every day.
Without water, life would just be rock.
You are water I'm water we're all water in different containers that's why it's so easy to meet someday we'll evaporate together.
You can not hide on an island and expect that water will not find you.
You can't cross the sea merely by standing and staring at the water.
You must not lose faith in humanity. Humanity is an ocean; if a few drops of the ocean are dirty, the ocean does not become dirty.
You swam in a river of chance and coincidence. You clung to the happiest accidents—the rest you let float by.
Humorous Waterfall Captions
Go wherever you feel most alive.
Happiness comes in rushes.
I am like a waterfall: Wild and free.
I love places that make you realize how tiny you and your problems are.
Its all water over the falls
Keep close to nature's heart.
Life doesn't flow backward.
Nature never goes out of style
Not complaining about this view.
Oh baby baby it's a wild world. — Cat Stevens, Wild World
Water you up to? Nothing much, just chasing this waterfall.
Watery waiting for? Let's go already!
Water Related Quotes
You didn't come into this world. You came out of it, like a wave from the ocean. You are not a stranger here. – Alan Watts
With meditation I found a ledge above the water of my thoughts. -Mary Pipher
Wherever you go, go with all your heart. — Confucius
When the well's dry, we know the worth of water. – Benjamin Franklin
Water is the most perfect traveller because when it travels it becomes the path itself! – Mehmet Murat Ildan
Water is life's matter and matrix, mother and medium. There is no life without water. – Albert Szent-Gyorgyi
Thousands have lived without love, not one without water. -H. Auden
There is a hidden message in every waterfall. It says, if you are flexible, falling will not hurt you! –Mehmet Murat Ildan
The earth, the air, the land, and the water are not an inheritance from our forefathers but on loan from our children. So we have to handover to them at least as it was handed over to us. –  Gandhi
Some people love the ocean. Some people fear it. I love it, hate it, fear it, respect it, cherish it, loathe it, and frequently curse it. It brings out the best in me and sometimes the worst. – Roz Savage
I love the sounds and the power of pounding water, whether it is the waves or a waterfall. –Mike May
Eventually, all things merge into one, and a river runs through it. -Norman Maclean
All the water that will ever be is, right now. – National Geographic
A river cuts through a rock, not because of its power but because of its persistence. – Jim Watkins
Waterfall Captions
Whatever floats your boat.
We start in different places, but in the end, we all meet at the waterfall.
Water-falling in love with this place.
This waterfall is lifting me over the seventh heaven
Sorry, TLC. I chased the waterfall.
Sometimes, all you need is a change in scenery.
Relax and enjoy the view.
Nothing in the world is softer or more flexible than water, yet nothing can resist it.
Nature never goes out of style.
My definition of beautiful.
It's all water over the falls.
I want to be like a dew drop over your soul.
I am happiest when floating.
Human nature is like water. It takes the shape of its container.
Home is where the water is.
Get lost in nature and you will find yourself.
Always take the scenic route.
Adopt the pace of nature. – Ralph Waldo Emerson
Funny Waterfall Captions
You can catch me by the river.
Water is the most perfect traveler because when it travels it becomes the path itself.
OK Mother Nature, I see you flexing.
Not every paradise is tropical.
Nature is cheaper than therapy.
Like a river, life doesn't flow backward.
Keep moving, and you'll eventually get over it.
It's all downhill from here.
I have a therapist; her name is NATURE.
Great things are over every fall and around every bend.
Falling in love with this place.
Canoe + waterfall = I don't go camping anymore. – Demetri Martin
A river always knows where it's going.
READ_MORE