Enjoy our collection of Atlanta Captions (with beautiful Quotes) for your next Instagram post!
Atlanta is the capital city of Georgia, the United States famous for its Museum of Art, Trap Music Museum & more. The city is known for entertainment, nonstop fun, assorted cuisine, and a lot more.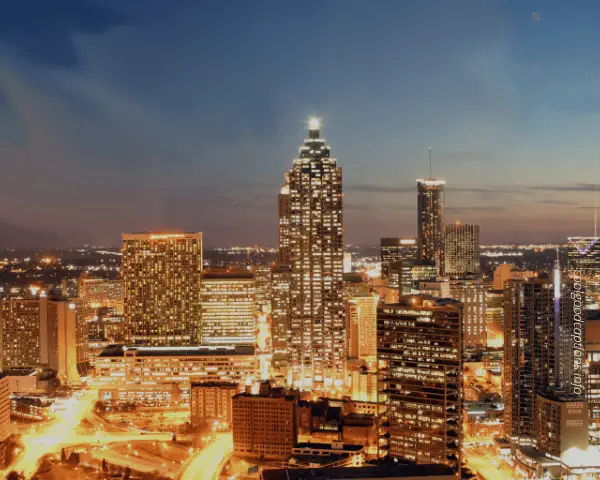 There are incredible places to explore when you are at the heart of Atlanta, also visit nearby cities like Savannah and Charleston.
READ | 79+ Washington DC Instagram Captions For Capturing Capital City Pics!!
For couples, there are romantic things to do while staying at the jacuzzi suite in Atlanta. American minister Martin Luther King belongs to the city of Atlanta, and the major sports event Summer Olympics 1996 was held here. We have also included Quotes about Atlanta for your pictures, Your trip to Atlanta is value for money, it's worth it. Enjoy!!
Atlanta Captions LATEST
All a girl needs is some sunshine and a smile.
Atlanta can do crunk music, it can do snap music, it can do swag music. Atlanta has it all.
Atlanta is an incredibly cool city.
Atlanta is unique to me. You got poor black people, but I also saw this: I saw black doctors, lawyers, educators. All you gotta do is want to be it to see it, and once you see something, it can be a reality.
Atlanta represents freedom.
Atlanta? I think it's the greatest city anywhere I know of.
Be cocky. Walk into the Georgia Dome like you own it.
Best thing about shooting in Atlanta at night is that it's not as hot as it is during the day.
Can't take the heat? Stay out of ATL.
Every time I'm in Georgia, I eat a peach for peace.
Football, friendship, and a lot of food.
For the entire state of Georgia, having the premiere of Gone With the Wind on home ground was like winning the Battle of Atlanta 75 years late.
Fueled by sweet tea and peaches.
RELATED | 60+ Munich Captions (Funny German Puns) for Instagram
Atlanta Instagram Captions
Good old days don't wash away, just like that Georgia clay.
I can't be calm when I drive through sections of Atlanta that look more like Kinshasa, Democratic Republic of Congo, than America.
I grew up in the suburbs north of Atlanta. I had an amazing childhood, and I still go back to my home in Atlanta often.
I remember at the 1996 Olympics in Atlanta, Shaq always wanted me to show him steps over and over.
I went down and played with Magic Johnson at his all-star game in Atlanta. I remember Magic stopped the game and said, 'We need you here with us in L.A.
In my opinion – in Georgia, there's a town called Lula. And Lula, Georgia, has the best peaches.
Just an old sweet song keeps Georgia on my mind.
Land of the free, home of the Brave(s).
Made with soul in Atlanta.
North is a direction. The South is a lifestyle.
Atlanta Georgia Instagram Captions
Once I went to bed in Orlando and I woke up in Atlanta. I have no idea how that happened.
Somebody had asked me how it was to be in Atlanta, and I said that Atlanta had always been known as a Braves city, a baseball town.
Summers don't get much hotter than this.
The Atlanta Hawks are a bunch of guys who would prefer to pass kidney stones than pass a basketball.
The city of Atlanta has always had a good spirit.
The energy in Atlanta is a different type of energy.
The Migos walked so I could run.
There are sad moments – lonely moments – when you're sitting up in your room all by yourself, shooting on location in Atlanta or Vancouver or L.A., and your family's back home. You can miss home.
Instagram Captions About Atlanta
The outlook in Georgia has never been brighter.
There's always something in Atlanta that's so far from people's comfort zone.
This is the city of the underdog champion, so they want to see the next person out of their city blowing up and making I feel like, man, Atlanta's a big city, but it's so small. – Mike Will Made It
Welcome to Atlanta, where the playas play.
What happens in ATL, stays in ATL.
Atlanta Quotes For Instagram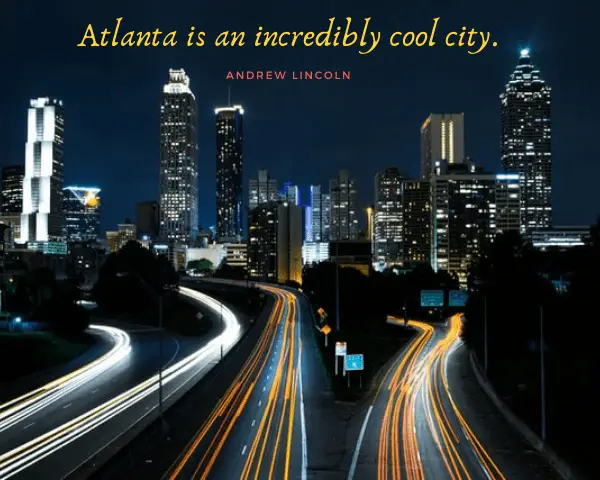 I worked with Snoop, but I would love to work with him again, but DMX I would love to work with him as well I met him in Atlanta; I went to one of his concerts; I would love to do a song with him. I respect him and really like his music.
A lot of things happened in a lot of places. And to see how well it was handled in Atlanta. There are a lot of reasons for Atlanta being a special town in the Civil Rights era.
After I left the podium in Atlanta, I felt so fulfilled in my career that I lost my desire to compete at that level again.
Also, I'm a part of the people that I've worked with in baseball that have been so great to me, Mr. Earl Mann of Atlanta, who gave me my first baseball broadcasting job.
By 2040, the Sahara will be moving into Europe and Berlin will be as hot as Baghdad. Atlanta will end up a kudzu jungle. Phoenix will become uninhabitable, as will parts of Beijing (desert), Miami (rising seas), and London (floods). Food shortages will drive millions of people north, raising political tensions.
Coming from a small town it was tough to dream big. When I grew up in a small town in Georgia, my biggest dream was one day to be able to go to Atlanta.
Growing up in Atlanta I always had a sense of what fashion was, a sense of style – my parents always talked about the importance of making a first impression and that's stayed with me.
I always view my music like a city at night, like Atlanta. I view my music in lights. So Far Gone would be my experiences in Toronto at night.
I think the saddest moment in my life just happened two months ago. My old nightclub partner passed away, Phil Erickson down in Atlanta. He – I owe him everything. He put me in the business and taught me about everything I know.
If you don't like the way the Atlanta Braves are playing then you don't like baseball.
I'll have to say winning the Olympic gold in Atlanta is a crowning achievement, along with the gold in the relay in the same games.
I'm certainly thankful for what the Cubs did for me. I respect their organization. It's the same way with the Atlanta Braves, an awfully fine organization. I respect everybody who's down there, and that's still where I live today. But the Cardinals represent the best years of my career.
It used to be that if you had a pretty good record, you could stop by a station in Little Rock or Atlanta and let the DJ listen to it. No way something like that can happen now.
Politicians have a responsibility to act if public opinion changes. Flooding, storms, and droughts are all getting people talking about climate change. I wonder if someday Atlanta will run out of water.
That other saying, I'm a part of all that I have met, I think that would have to begin with my wonderful parents back in Atlanta when I was a youngster five years old I was tongue-tied.
The first time I was homeless was when I went to Atlanta. I was in a homeless shelter, then when I got a job I used to miss the curfew for the shelter. So I ended up sleeping outside in the streets.
The peculiar fascination that the South held over my imagination and my limited capital decided me in favor of Atlanta University; so about the last of September, I bade farewell to the friends and scenes of my boyhood and boarded a train for the South.
You don't need Tom Wolfe to tell you that the Buckhead section of Atlanta is the jewel of the city, an area of gracious homes, elegant hotels, and shopping centers, as well as some of the best restaurants.
MUST READ | Incredible 67+ Las Vegas Captions Quotes for Selfies