People of Libra Horoscope, a zodiac sign are better known for their well-balanced, courteous, hardworking, and strong intellect. For all Libras, the following Instagram Captions For Libras are the perfect fit that defines their behavior.
They are love and caring people, have no ambiguous attitude, soft nature, and open heart for everyone. Balanced lifestyle, less talkative and caring attitude for family and friends.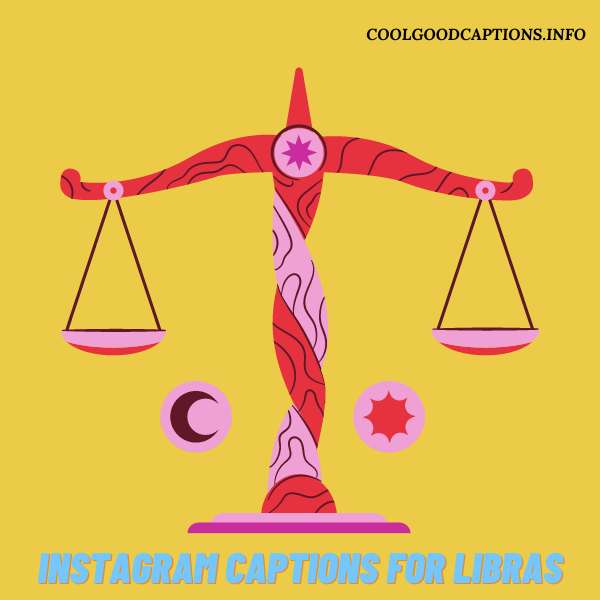 RELATED:: BEST 33 Instagram Captions For A Taurus – Short Taurus Quotes!
Person of Libra (an astrological sign) has a pleasing personality, always willing to help others beyond their limit. Libra the 7th Astro sign in the zodiac, a person generally born between September 23rd and October 22nd. These Libra Quotes include funny and serious that make awesome captions for a picture that help you express yourself to the world via Instagram.
Instagram Captions For Libras
A chat with your Libra bestie a day keeps the bad vibes away.
A Libra likes to be in their own world to recharge their batteries.
A Libra would rather be hated for being themselves than loved for being someone they're not.
Alone we can do so little; together we can do so much.
Apple pies and Libra-loving skies.
As a Libra you win people over with your charm.
Bad vibes don't go with my outfit.
Do whatever sprinkles your apple cider doughnuts.
Everything is up in the air over here. It may be because I'm a Libra.
Going with the flow today and every day.
Happiness is not a matter of intensity, but of balance, order, rhythm and harmony.
How lovely it is to be a Libra…
If a Libra tells you about their problems, it means they trust you.
If a Libra was a day of the week, they'd be a chill Friday.
If you lie to a Libra, they'll always doubt what you say.
I'll just be over here avoiding confrontation and being a Libra.
Indecision may or may not be my problem
Injustice anywhere is a threat to justice everywhere.
It is literally true that you can succeed best and quickest by helping others to succeed.
It is what it should be, and that gives me great comfort.
It's the chill attitude for me.
I've learned how to ride with the waves of life.
Just a Libra being a Libra.
Let the Libras of the world handle this one.
Libra kisses and autumn wishes.
Libras are skilled enough to be one step ahead, but make you believe they're one step behind.
Libras are usually so busy caring for others that they don't know how much they're hurting.
Libras aren't high maintenance. They're just picky.
Captions For Libra
Libras don't take very long to fall in love, but they're loyal once they are.
Libras look after others so much they forget to take care of themselves.
Life is like riding a bicycle. To keep your balance, you must keep moving
Live with intention like a Libra does.
Love is like the wind, you can't see it but you can feel it.
Love, your favorite Libra.
Lucky I'm in love with another Libra.
Nothing hurts a Libra more than being hurt by someone they thought would never hurt them.
Peace begins with a smile.
She has big Libra energy.
Step into the autumn light, and glow.
Sticking with the mindset that I can do anything I dream.
The constellations are on my side right now.
The Libra's motto: I fall to fast, forgive too easily, and care too much.
The quieter a Libra gets, the more observant a Libra is becoming.
The sun will rise and it will be another day in Libra season.
The world needs who you were made to be.
Instagram Bio For Libra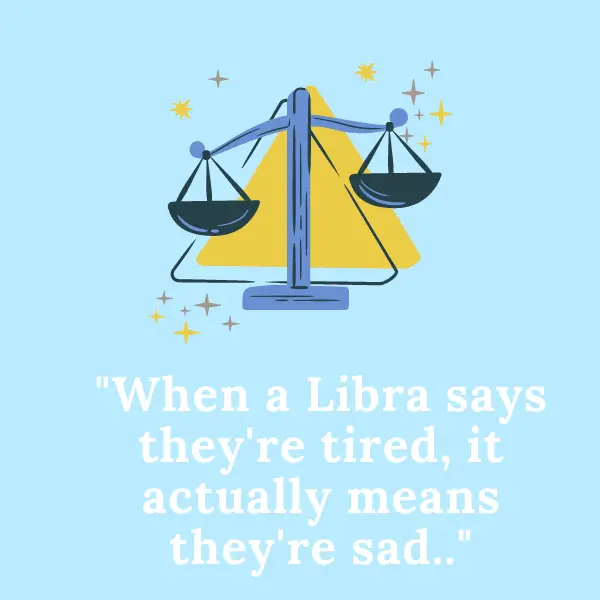 Things will work out. My Libra soul senses it.
This season is coming up 100% Libra.
Welcome to Libra season, aka the chillest of them all.
When a Libra says they're tired, it actually means they're sad.
When Libras love you, it is with their entire heart and soul.
When you focus on the good, the good gets better.
While they get along with everyone, Libras only talk about the deep stuff with people that matter to them.
You could probably guess my zodiac sign based on my hiking shoes.